Men and women will inevitably have different experiences and backgrounds, which shape their approach to business. Challenging each other and collaborating with people who think differently can breed creativity and promote the innovative ideas that push organizations forward.
Women in business
24/7 online access
The Women in Business program is conveniently offered online through TAFE Digital, and includes online topics you can mix and match to build a program that is completely personalised to your specific needs. New topics that cover the latest trends in Australian business are regularly being added.
Hear from Australia's leading female entrepreneurs
We've interviewed some of Australia's leading female entrepreneurs, so you can learn from their experiences to help make your business a success. Janine Allis, Taryn Williams, Tory Archbold and many others will share their knowledge and personal experiences.
Share your new skills
Attend local events
Access resources and services for all stages of business
Business Concierge – a free and dedicated service offered through Service NSW to help you open your business.
Business Connect – a dedicated and personalised NSW Government program that provides trusted advice to help you start or grow your small business.
Aboriginal Enterprise Development Officer (AEDO) Program – providing start-up assistance and ongoing mentoring services for Aboriginal people considering starting up their own business or expanding their current business.
The NSW Department of Communities and Justice – promotes and recognises the contribution of women across NSW to industry through initiatives including the NSW Women's Strategy.
Women in Business eligibility
View all Business topics
View all Communication topics
Discover the principles, practices, and framework to help you build and implement your customer survey strategy; and how you can use surveys to keep your finger on the pulse of your customers' experiences.
View all Finance topics
Learn about your tax obligations as a small business owner in Australia, including your tax obligations when paying staff, preparing quarterly Business Activity Statements (BAS), declaring income and claiming tax-deductible expenses.
Discover how to make the End of Financial Year (EOFY) as stress free as possible with proven tips and a checklist. Reconciling your business's financial position can lead to positive changes for future planning and growth strategies.
View all Marketing topics
View all Wellbeing topics
Challenges for women in business
Women are still underrepresented in key fields
While a number of industries are showing trends of a growing female workforce, sectors like finance, engineering, and tech still tend to be strongly male-dominated. In STEM (science, technology, engineering, and math) industries overall, women make up just 24% of the workforce in the U.S. and less than 15% in the U.K.
Women's under representation could be down to the continued stereotype that an interest in "hard science" is unfeminine. But with STEM occupations projected to be among the fastest growing and best paid, it's important that women feel empowered to gain the skills and embrace the opportunities afforded by a career in science, tech, and related fields. Organizations like the National Girls Collaborative Project and Girls Who Code are working to inspire women to pursue computer sciences and engineering and close the gender gap in STEM industries.
The women who are in or want to position themselves for leadership roles often feel they come under particular scrutiny. Where men may be encouraged to be ambitious or assertive, women are programed from a young age not to be "bossy". Underlying gender bias means the same behavior and characteristics—initiative, passion, and taking charge—can be interpreted differently in men and women in the workplace.
Women are less successful when it comes to salary negotiation
Women's own reluctance ask for higher pay is often cited as a factor behind the gender pay gap. When Glassdoor did a recent survey on salary negotiation, it found that 68% of women accepted the salary they were offered, while nearly half of the men surveyed negotiated before accepting a role. It also revealed that when women did try to negotiate their starting salary, the outcome was generally less favorable.
Challenging the notion that women don't ask for raises, a 2016 study from Cass Business School, the University of Warwick, and the University of Wisconsin, found that women are equally as likely as men to ask for a wage increase. But they're also 25% less likely to get one.
It's almost an accepted truth that men have a better sense of self-belief when positioning themselves for leadership roles or negotiating pay. Even highly successful women suffer from "imposter syndrome", feeling inadequate and underestimating their worth. Women believing in their own value and demanding a salary that reflects it is an important step in closing the wage gap, while greater pay transparency can also help to level the playing field.
"Start the process today of understanding that, really, nothing is off limits for you. You can learn any skill. You can speak to anyone. Everything is within your ability. Nourish this growth mindset—that will make you successful in your MBA and applies right into the workforce."

– Rosey Singh, Hult MBA Class of 2017
Opportunities for women in business
Gender equality and inclusivity becoming policy
Discouraging and circumventing bias through hiring policy can help organizations to reap the benefits of balance and equality. Rather than political correctness or buzzwords, if diversity, inclusiveness, and gender equality become policy and are embedded in business strategy, businesses thrive.
Making a commitment to things like equitable gender representation, inclusive company culture, and work-life balance—including maternity and paternity benefits—also help organizations to attract top talent. These are a few reasons why companies like Salesforce, General Electric, and Deloitte are cited as excellent places for both women and men to work.
Entrepreneurship as the path to leadership
For a growing number of women, the fastest route to the c-suite is launching their own business. In the United States, the number women-owned businesses have increased 74% over the past 20 years—1.5 times the national average. Today's start-up culture empowers women to be their own boss and pay their own salary, defining how they want to work and making the balance of career and family life easier. Entrepreneurship presents a path for women to close the pay gap and rise to leadership positions, on their own terms.
Strengthening credentials with a business degree
To stand out in a competitive job market, many women hone the knowledge and expertise they need through a business degree. The number of women enrolling in business school is steadily on the rise. Whether it's undergraduate study, an MBA, EMBA, or Masters degree, business school offers a valuable platform for women to become subject-matter experts, practice leadership skills, and gain the confidence they need to step into the boardroom.
Business school is also an invaluable networking opportunity and a chance to meet mentors in fellow students, professors, and campus speakers. A mentor can offer industry advice and serve as a sounding board for new ideas. Mentors can also become important career sponsors, offering professional opportunities and helping ambitious and talented women to take their next step up the career ladder.
"The biggest thing I left my MBA with, beyond the hard skills, was this better sense of confidence in myself. Business school was so much more than learning about finance and accounting. It can be intimidating when you're one of the only women in the room at a work meeting. I have a lot more confidence when I'm in those situations now."

– Justine Stacey, Hult MBA Class of 2016
At Hult International Business School, empowering women to lead in business is high on our agenda. We offer courses focused on gender equality and leadership, an active Women in Business club, as well as on-campus events and seminars, discussing, inspiring, and celebrating women in business. Each year we're proud to award scholarships to attract and support the promising women business leaders of tomorrow. Find out more about the programs we offer.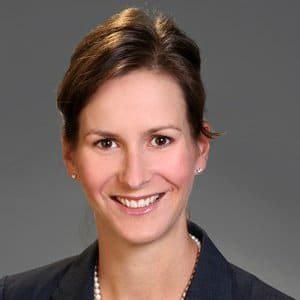 Tessa Misiaszek is Associate Dean for Hult's Boston campus and Professor of International Marketing and Entrepreneurship. Tessa previously served as the CEO of Empathetics, run a number of startups, and worked as a consultant for Korn/Ferry International.
Justine Stacey is an alum of Hult's MBA program. Before earning her MBA, Justine spent several years working as an advocate for women's health and empowerment around the world as VP for Girl's Globe. Now, Justine is a marketing strategy manager for a leading financial company.
Rosey Singh is a current MBA student at Hult. She has worked in the banking industry for 10 years and is the current president and co-founder of the Gender Equality in Leadership Club on Hult's San Francisco campus.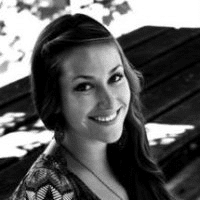 Hult contributing blogger Katie Reynolds is a freelance writer based in London. Originally from Michigan in the U.S., she relocated to the U.K. in 2010 to pursue a master's degree at Hertford College, Oxford. Today, she writes on topics including business, higher education, healthcare, and culture.
Hult offers a range of highly skills-focused and employability-driven business school programs including a range of MBA options and a comprehensive one year Masters in International Business. To find out more, take a look at our blog A Way Up for Women in Business. Download a brochure or get in touch today to find out how Hult can help you to learn about the business world, the future, and yourself.
16. Phoebe Mroczek
"To be honest, I've been an entrepreneur for as long as I can remember. From the stationery stand in my driveway and my fifth-grade scrunchie business, to the dual-level marketing company I joined in college, it's really not just a passion. It's a way of life."
"As I built my online network, I bumped into some internet marketing resources that changed the course of my path up until that point. The most influential person I discovered was James Wedmore, whose mentorship gave me the confidence and clarity to develop my business. This was the kick in the pants I needed to define and flex my entrepreneurial muscles."
"Within twelve months, I'd made six figures and more importantly, built a business that helped female entrepreneurs all around the world. So, I guess you could say I got my start as an entrepreneur a couple years ago once I made the decision to go for it. With a little coaching and a LOT of fear, I went for it and the rest is history!"
Authorship:
https://www.tafensw.edu.au/womeninbusiness
https://www.hult.edu/blog/women-in-business-advantages-challenges-and-opportunities/
https://www.creativelive.com/blog/top-women-entrepreneurs/